Font FAQ
Are the fonts really free?
Yes! The fonts are free for personal use. Feel free to credit @kevinandamanda. If you would like to help support this site so I can create new fonts for you, please feel free to donate here!
Do you have a commercial use license?
Please see the Terms of Use here.
How do I use the fonts?
First, be sure you have downloaded and installed them correctly by carefully following these directions. Then they will show up in the font drop down box of your favorite program– like Word or Photoshop.
You can also use the fonts on your Blogger/Blogspot blog!! Here's how. :)
I followed the directions but it's still not working.
I'm so sorry about that! The fonts are just standard truetype fonts — nothing special — and I can assure you that when correctly installed, the fonts do work in all programs on Mac OSX and Windows. But if it's not working for you, it's likely a problem with your computer or operating system. Unfortunately without seeing your computer in person, there's really no way to know what the problem could be. If you are receiving a specific error message,  try typing the exact message you get into Google. You can also post your question in a tech support forum where the computer geniuses hang out! :)
When I try to use a font, the top and bottom are being cut off.
It's possible you have an old version of the font. Please delete that font and download the newest version from here: Fonts for Peas or here: Free Scrapbook Fonts.
What program do you use to make fonts?
What is this font?
Here are some of the fonts you might see around Kevin & Amanda:
Font Used: Pea Stacy Elizabeth

Font Used: Pea Hannah Vanilla

Fonts Used: Chewy Stewy, Susie's Hand, and Elise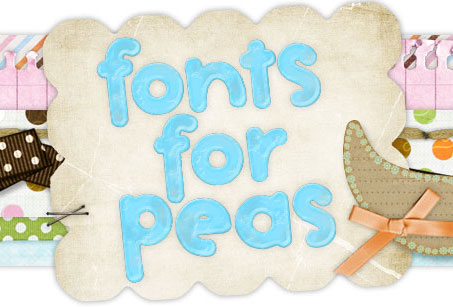 Fonts Used:Â Chewy Stewy
How did the "Fonts for Peas" get their name?
I have always loved handwriting. The first computer disc I ever bought was a disc with 300 handwriting fonts. It was $20, and I saved my babysitting money for weeks to buy it! Once I learned there was a program where you could *make your own* handwriting fonts, I knew I had to do it. I had always wanted my handwriting as a font. I started asking everyone I knew to write their alphabet for me so I could turn it into a font. But that wasn't enough- I wanted more! :) I posted on the message board "Two Peas in a Bucket" asking people to send me their handwriting and I would send them a font back for free. I got so many wonderful samples, I knew I had to share the fonts I'd made with others who loved fonts just as much as I did. I created the site "Fonts for Peas" as a way to share those fonts back. I still love making and sharing these fonts freely today!